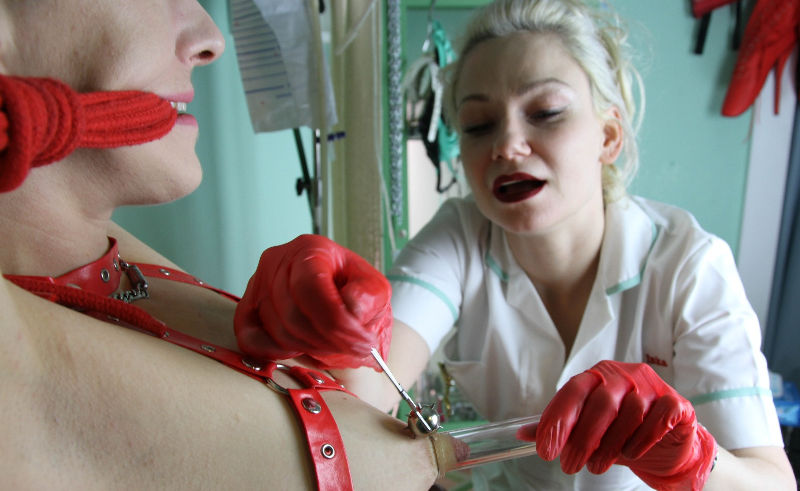 I'm Nurse Inka, an experienced sadistic medical fetishist based in the Scottish Capital, Edinburgh.
I've been a Dominatrix for 6 years, and throughout that time I have increasingly become fascinated by medical fetishism. I exude sexuality and sadism, I'm a traditionally beautiful, yet deviously sadistic looking woman, when I am playing with your body, you will know that you are here for my pleasure!
For me, medical fetish is the culmination of many of my favourite aspects of domination: the complete power exchange, the high level of skill required, which I have developed and honed during the time I've been a practicing Dominatrix, and the way I am trusted to play with my patients and experiment on their bodies, the thrill is intoxicating.
From the squeak of shined up green latex medical outfits, to the gleam of shiny chrome implements in my medical cabinet, my medical room is perfectly equipped. With tools ranging from enema bags, to saline injections, catheters and speculums, needles and medical staples, the opportunities are truly endless.
We can indulge in a sadistic yet erotic role play, the nurse who seeks to hurt you more before she sets about to heal you, or you can simply submit yourself to my own unique brand of medical domination. Nothing excites me more than the satisfaction of knowing you have willingly let me subject you to a menagerie of sadistic treatments, all for my own pleasure, it's the ultimate sensual experience.
How will you feel bound to my medical bench being examined and inspected? How will your body react when I force you to surrender to a humiliating procedure all for my own amusement? How will it be to be completely helpless on my examination bench, not knowing what I'm going to do next?
You will surrender to my will, be it if you will be seeking for me to staple you, to intoxicate your mind, or even to use my scalpels and needles on your flesh, you will be helplessly bound within my clinic, where no-one can hear you scream. I will show you a world of sadism, medical torture and torment, and absolute euphoria, after all, you will obviously want to be my personal favourite patient.